It's Friday... Yay! And I am barely getting in my Five Question Friday, but who cares?!? I have been one busy Mama today! Just a recap... Before 7:30 this morning, I finished my waist deep pile of laundry, made my super-duper, fabulous bar-b-que sauce, and had my family's clothes ironed and ready for the day! Then, I got Emma up and out the door to school... dressed adorably for school pictures, her first... After dropping her off, I scheduled a photo shoot for Sunday afternoon, picked up groceries for my sisters engagement party tomorrow night, ran four more errands and returned home to clean a little before school was out. When it was time to pick Emma up from school, I made a quick stop to pick up a birthday present.
Next was home and nap time while I put up spaghetti sauce, cleaned the kitchen and edited pictures. I unloaded the car and then loaded it again, with things for this trip, showered and got ready for a birthday party that Emma was invited to. In the midst of all of this, Emma woke up, I picked her up something for supper, purchased fabric to create a backdrop for this weekend's photo shoot, got her costume ready and on her for the party and then got us out the door on time... Barely!
We attended the party, and had a blast. It was at the old carousel in our town... the oldest carousel in the nation, I think. Emma rode the carousel until I was sick and played with her friends for a while. We sang
Happy Birthday,
had cake and then got ready to leave... Back to our house we went to change out of our costume, into our jammies, load the 'cold' foods and Meiko in the car and then drove to my parents'. Two and a half hours later, we unloaded at Granna and Pop's and Emma played for a little while. I finally got her in bed, and myself in bed... but I turned on the computer and started blogging instead of sleeping! Which leads me to my reason for even turning this thing on... Five Question Friday! So without further adieu...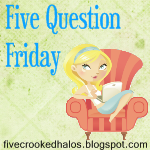 1.
What is your favorite Halloween candy?
True Halloween candy... Those little pumpkins that are made like candy corn. I love those things! But, what I love to raid out of the Halloween candy basket... Twix! I just can't help myself!
2. Do you fold your socks?
I match them and then I turn one down over the other. Does that count as folding? And, I always try to make sure I do it before anyone else in my house does it... Not naming any names! :) I hate when they are mis-matched... even if they aren't mine.
3.
What is something that you wish you had been warned about?
Breastfeeding. I was told that it was hard, but not to any extent. Man, that first week, or two, is rough! It is definitely worth it, but there were moments that I couldn't see the light at the end of the tunnel! No one prepared me for that.
4.
What is the most significant difference between you and your significant other?
He is the social butterfly and I am most comfortable at home alone. I would probably be a hermit if it weren't for him! He definitely balances my loner nature and pushes me to socialize. On the other hand... he would be out with friends every single night if I didn't push to stay home more often! We are great compliments to one another in this aspect and so many others!
5. What are three words you would use to describe yourself?
(And, just for fun...if your significant other is around, ask him/her what 3 words they would use to describe you!!)
One) Self-Reliant - I would rather do it myself than ask someone for help or wait for someone to do it in their time.
Two) Perfectionist - I obsess over the straightness of a book on my coffee table, whether the hangers in my closet are the right kind and hanging in the right direction, if the clothes in my house have been folded to the exact dimensions that I have found fit in our drawers best...
Three) Strong-willed - When my mind is made up, it's made up. PERIOD.
And, my hubby isn't around for me to get his answers... thank goodness! No telling what he might reveal out me!
Hope that everyone has a fabulous Friday!!!!!