I admit it. I'm a terrible blogger. I have so many things to share, yet I don't. My kids are achieving all sorts of "firsts," and I haven't shared any of them. I like to think I am living in the moment with them, and that's why I'm not blogging as much. Yeah, I'll keep telling myself that.
Honestly, though, when I get them to bed, I'm usually so tired that I can't even think about blogging. And, trying to blog during the day? With them awake? Not happening. They like to press the buttons on my computer, cry, scream for me to do something for them, color on the walls, flood the bathroom... I could go on for days!
But anyway, I enjoy participating in Five Question Friday. And, it is usually Friday again before I realize I haven't blogged since the last one. I'm enjoying my crazy, tiring days with my kids, and really, that's all that matters.
Happy Friday!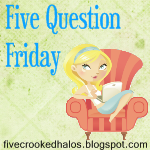 1. D
id you do anything special for your kids on the last day of school? Or did you parents do anything special for you?
No, not this year. Emma is only three, so maybe she won't remember that I was a slacker. I can't remember my parents ever doing anything for us to celebrate the last day of school. So, I haven't given much thought to a special something to do for my kids. Maybe I'll work on that!
2. W
hat's your favorite summer tradition with your children?
We haven't established anything yet. I would love to make it a tradition to go to some great beach every summer.
3.
What was your favorite thing to do during the summer as a kid?
I loved to swim, play outside, and spend the night with friends.
4.
How old were you when you were married? Were you a Bridezilla?
I was 26 when I got married. I don't think I was a Bridezilla, for the most part... Ask my sister, though. She was my maid of honor and she'll tell you the truth.
I do remember becoming Bridezilla when my florist brought me an ugly, pageant type bouquet. I asked him if he thought I was Miss America. Then, he informed me that my guys'
boutonnieres
were roses. The only request I had when meeting with him was, and I quote, "I don't care what you do as long as you do NOT bring a rose in this church."
I am pretty sure I should still be asking forgiveness for the tongue lashing I gave him. In the church.
5. W
hat is your favorite girl name? (I'm needing suggestions.)
Of course, Emma Cate is my favorite. But, if we are talking about names that aren't my children's, Annie Michael is my favorite girl name. Followed by Clara Michael. And, I still haven't ruled out the possibility of using them some day. SOME DAY. But not today. And, NO, there is nothing I need to tell anyone. Promise!
Have a great weekend!